Powerful sound with the sound marvel for fantastic garden parties, chilled evenings on the balcony or a wild flat party. The Bluetooth speaker guarantees rich sounds everywhere, be it indoors or outside, as it is waterproof.
Rich sounds for parties at home or in the garden: two 20-Watt loudspeakers and two passive radiators (10 Watts each) on the sides for powerful sound
Enjoy your favourite songs for a long time: the loudspeaker can be used via Bluetooth for 12 hours
Integrated power pack: smartphones, tablets, etc. can be charged directly on the speaker via USB
True Wireless stereo: connect two loudspeakers via Bluetooth and position them anywhere in the room for true stereo sound
Splash-proof to IPX6: Whether you're in the shower or relaxing by the pool – you can enjoy great music without worrying about shower, rain or splashing water
With Indoor/Outdoor mode, you can perfectly adjust the sound experience to the surroundings at the press of a button. Trebles and basses are automatically equalized
THE PERFECT BLUETOOTH SPEAKER FOR PARTIES, WHEREVER THEY TAKE PLACE
Does the house party in the kitchen not seem to want to get going? Is the garden party lacking atmosphere? Is everyone at the birthday party just sitting around looking bored? If so, it's time for some swing with our 'SoundBarrel' Bluetooth speaker. Everyone can play their favourite songs via Bluetooth – whether from a smartphone, tablet or laptop. And the full sound gets the party swinging.
ALWAYS ENJOY DISTINCTIVE SOUND – INSIDE AND OUT
Compact and powerful – two 20-watt speakers and two passive radiators on either side (each 10 watts) ensure full sound. This passive diaphragm acts like a bass reflex opening – guaranteed to get the dance floor shaking.
For optimal adjustment of the sound to the spatial conditions, three modes are available: Indoor mode, Outdoor mode, and 3D mode for room-filling 3D sound. From the workshop to the chillout lounge on the balcony to the wild garden party – the sound is always right.

60 watts

3 modes: Indoor, Outdoor, 3D
NON-STOP POWER WITH THE MOBILE SPEAKER
Many Bluetooth speakers don't have the right power, and, what's more, the battery soon dies. Our 'SoundBarrel' music box boasts powerful sound and a battery life for non-stop partying: When operating the device via Bluetooth, you can properly enjoy the rhythm for 14 hours. This can be extended to 16 hours if you use the AUX connection. Charging takes just four hours, after which the party can get going again, or the chillout lounge with relaxation music reopens. Particularly practical: If your smartphone battery is running down, simply charge it on the speaker's USB port – you can do this using the charging cable supplied. This means you always have power and music – whether you're on the go, in the garden, or within your own four walls.

14h via Bluetooth / 16h via AUX                                                                                 

4-h charging time                                                                                   

Smartphone charging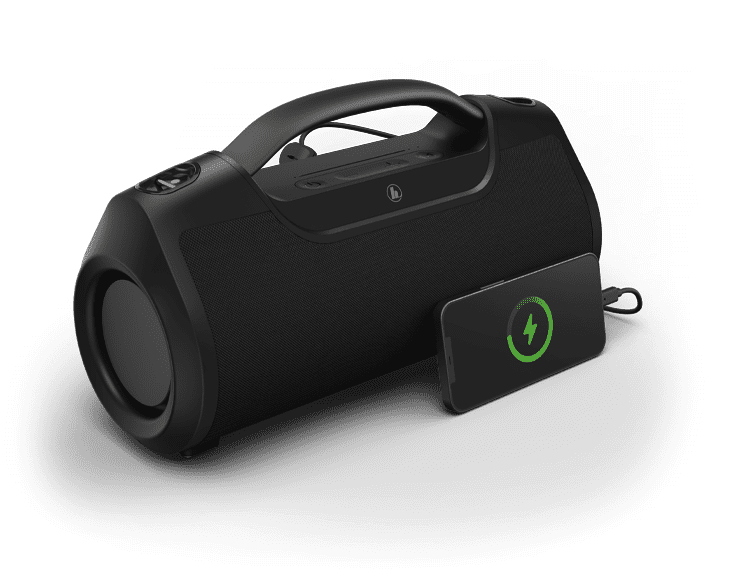 PROTECTION FROM WATER JETS
NOT A BIT WATER-SHY
Raft trip with the lads, or a romantic rowing boat tour with your loved one? In either case, the right mood maker must not be absent. As our portable speaker is protected from powerful water jets such as rain and water splashes, it can accompany you by and on the water, and ensure a good mood or romantic atmosphere.

IPX6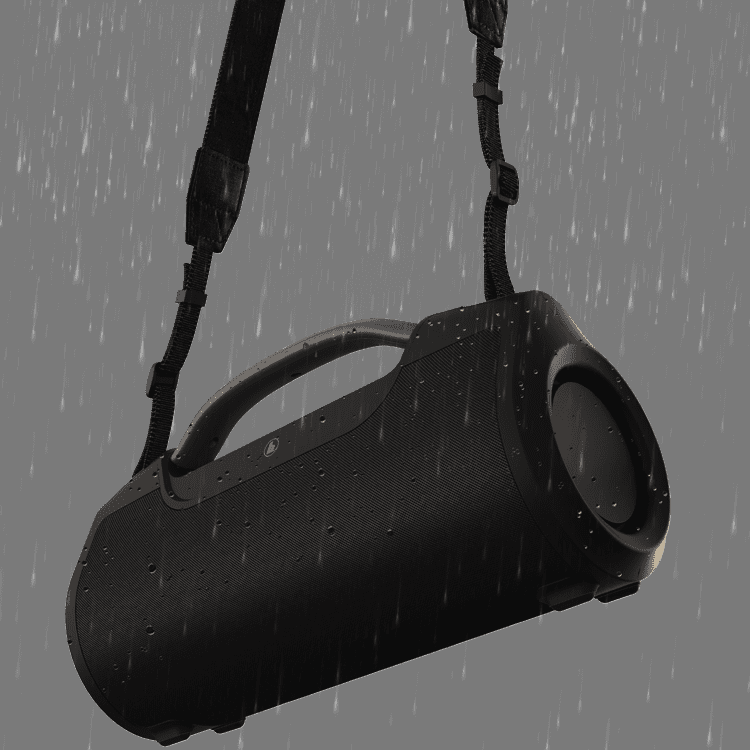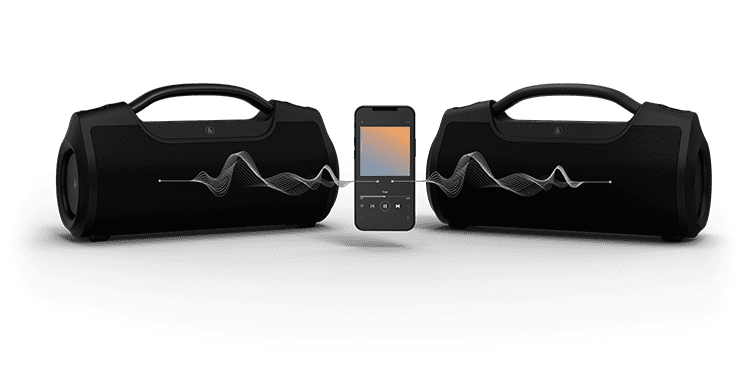 RIGHT IN THE MIDDLE OF IT, WITH TRUE WIRELESS STEREO
Perfect sound for the perfect party? This is not a problem with True Wireless Stereo. Simply connect two or more speakers with Bluetooth, and you have real stereo sound you can dance to. Larger rooms are perfectly filled with sound if the Bluetooth speakers are placed in various corners.
Can be combined with multiple speakers
Design (Colour, Pattern, Motif, Series)
| | |
| --- | --- |
| Colour | Black |
| Product Division | Mobile Entertainment |
| Shade of colour | Black |
Connectivity (Connection)
| | |
| --- | --- |
| Audio Playback | Audio-in (3.5 mm jack plug), USB Type A Socket |
| Connection | 3.5 mm Jack Socket/USB-C-Connector/USB-Typ-A-Coupling |
| Connection | Bluetooth |
| Max. Range | 10 m |
Electrospecific Properties
| | |
| --- | --- |
| Bluetooth Version | 5 |
| Capacity | 7200 mAh |
Physical Properties
| | |
| --- | --- |
| Additional Functions | Speakerphone |
| Audio system | Stereo |
| Compatible bluetooth profiles | A2DP, AVRCP V1.4, HFP V1.5 |
| IP protection class | IPX6 (Protection against strong continuous rain) |
| Maximum music power | 60 W |
Size & Weight
| | |
| --- | --- |
| Depth | 11.8 cm |
| Height | 15.2 cm |
| Weight | 2550 g |
| Width | 31 cm |
Energy
| | |
| --- | --- |
| Battery Type | Lithium Ion Battery |
| Charging Time in Hours | 3.5 h |
| Power | 53.28 Wh |
| Power Supply | Integrated Li-Ionen-Battery |
| Uptime | 12 h |
Field of Application
| | |
| --- | --- |
| Recommended Use | Mobile Music |
More product information
Powerful outdoor Bluetooth loudspeaker with power pack function for perfect music enjoyment at an indoor or garden party with the mobile phone, tablet or laptop
3 modes offer the perfect sound for every situation: Indoor mode, outdoor mode and 3D mode for a room-filling 3D sound
Full mobility thanks to battery operation with LED charging indicator: fast charging within 3.5 hours via USB-C interface
Bluetooth version 5.0: fast, stable and energy-efficient data transfer
Integrated hands-free facility
Also connect the mobile loudspeaker via cable to save power thanks to AUX-in
Robust, washable surface – if things ever get muddy at a festival or garden party
Always have the sounds with you: portable loudspeaker with handle and carrying strap
What's in the Box
1 "SoundBarrel" Bluetooth loudspeaker
1 USB-C charging cable
1 carrying strap
1 instruction manual
Note for Consumers
The Bluetooth usage duration depends on the volume:
8 hours at 70% loudness
12 hours at 50% loudness
30 hours at 10% loudness
Warranty
2 years legal warranty only